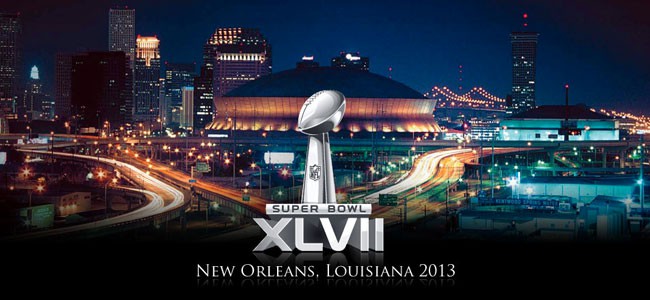 Creative Director Discusses Desiging for Superbowl XLVII
Great article on HowDesign.com about what goes on behind the scenes of the SuperBowl creative team. The challenges of creating an unbiased color scheme sounds like a daunting task. Trying to narrow down brand colors unlike any of the 32 teams has to take a lot of research and patience. Take a look…
On Sunday, Feb. 3, more than 100 million fans will tune in to Superbowl XLVII as the Baltimore Ravens take on the San Francisco 49ers. In fact, the Superbowl has historically been the most watch event every year. The pressure to design the creative assets for the game every year cannot be underestimated. Fortunately, NFL Creative Director Shandon Melvin was gracious enough to take time out of his enormously overwhelming week to give HOW an insider's view of the design strategy of the annual NFL Superbowl. He is our hero.
1. Is all work for the Super Bowl materials handled by a dedicated in-house design team?
No. There is an unbelievable amount of creative work developed for the Super Bowl and it takes hundreds of designers to pull it off. They specialize in creating everything from apparel to signage to tv graphics. Our in-house team creates a visual language through a Super Bowl style guide that the designers build from. Then we carry it out ourselves with League-related materials like the stadium decor and environmental graphics throughout the host city.
2. How large is the design team?
The internal creative team totals 34. We're made up of 4 art directors, 13 designers, 3 photographers, 2 production artists, 3 quality control specialists, 4 project managers and 4 brand managers. Each one of them is incredibly talented, very smart, and dedicated to the brand. The quality of their work blows me away and every single day I'm reminded how blessed I am to be a part of this team.
3. Is the team located at NFL Headquarters?
We are, and it is such a huge advantage to the team. About 10 years ago the League made a commitment to focus on the brand. They knew the best way to do this was to have a centralized brand and creative discipline working alongside the other key operations in New York at the League headquarters.